Item 6.




CREATO


A painting by Jim Thompson
Digital 16"x20"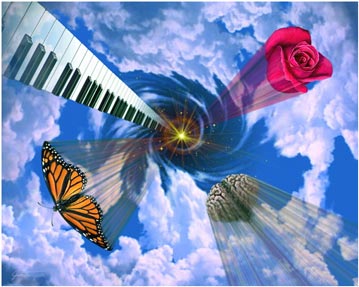 The universe of creative expressions that seemingly flow endlessly in uncountable forms, colors, textures and elements, are often found in a window frame we call a picture, that is a simple portal of expression. In that familiar frame, as though it were some vision of other-worldly dimensional experience, we see here a combination of a few familiar forms of our expression of music, romance, natural beauty and the mind.
As though the viewer is being drawn into that universe of mind, leaving the familiar bonds of earth and gravity and the common limits of everyday life, we are pulled upward toward the clouds of this our familiar world. This may happen through the magic of hearing a special composition of piano, or the many facetted sensual experiences that may evoke the vision of a beautiful and nearly perfect rose in some romantic encounter. Mix these with startling moments of natural and delicate beauty and discovery, by adding the gesture of a passing butterfly with its reminder of personal transition. Also add the mind as seen here by the flight of its physical representation, that common symbol of thought with which we can travel to other dimensions of timeless joy and wisdom, then we have some image of the creative process.
In this arrangement of common elements and symbols of love and creative forces, there opens still further a vortex that is the power one may feel when caught up in the rapture of positive emotions. This is a feeling of limitless indulgence that reaches for the infinite of what we may call soul. This vortex is so powerful that it turns the sky into a spiral that takes us into and beyond that which is normally experienced in the finite body. Opening into the eternal point of passage that is always there to those who search for it, is a way to express their most profound yearnings for connection and purpose.
The theme here is that if you are willing and persistent enough, putting your mind and heart into it, love, natural beauty, creativity and soul will flow to you from the mother of us all. Whatever we believe that to be.

Art, Mind and Soul

Artist and creator