Item 8.




AIREOUS


A painting by Jim Thompson
Digital 16"x20"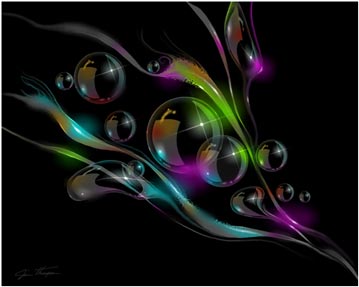 The darkness we sometimes experience in life often carries the potential of actually enhancing the more desirable aspects of color, form and movement. Here is offered a smooth-flowing, cool transition of one of Nature's most delicate and flexible displays. In the same fragile moments that give birth to bubbles are long-flowing streamers of similar material. Moving from lower right to upper left, as if in a burst of spontaneous, yet soft and distorting currents of movement along a graceful path, the action flows with waves of changing shapes of multi-colored facets and surface reflections.
This seemingly simple composition gives way to more complex patterns of almost chaotic activity on closer examination. The spraying and decomposing streams of matter discharge along the flowing paths and diffuse into space, in almost random dispersions of energy and soft hues. The stresses on the delicate spherical membranes produce distortions as they give way to smaller spheres, seemingly driven by some cosmic wind and broken into even smaller shapes as they are carried along. In the background and behind some of the shapes there are soft diffused hues that play with the stream of activity as it passes through the scene.
As we are each born into the light of our own respective worlds, we may flow with the energies of Nature, circumstance and enlightenment. This is but a graphic celebration of the movements of what might be compared to our various lives, on a journey that perhaps has profound power to reveal and express us, as we may appear like these shapes in the streams of time.

Art, Mind and Soul

Artist and creator