Item 20.




EDEN in VIRGO


A painting by Jim Thompson
Gouache and watercolor on artboard
14"x22"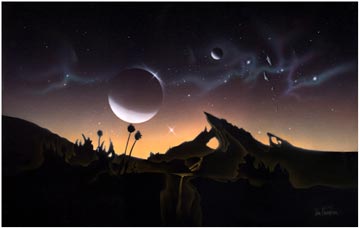 Somewhere in the constellation Virgo, the warm, soft hues of evening now reveal only twilight silhouettes of marvelous vistas. This distant and fantastic world might hold environments so potent with life, that a kind of eternal persistence of natural bounty and longevity prevail. Perhaps it might be the unique location of this planet in the cosmos that affords some relief from what usually ages things elsewhere. The faint veil of water or some such life-giving liquid drops into the shadows of a deep gorge, flanked by strange and lush vegetation. The shimmering pools of cool and golden light top-out the head ponds near the crest of the ridges. Strange up-thrusts of ancient volcanic strata and collapsed cinder cones dominate the skyline. The subtle shades of the evening sky reveal the daily passing of asteroids in orbit. The brilliant flash of a nearby star is being eclipsed by one of the local moons. The deep shades and pale shapes of distant nebulas glow dimly in the heavenly distance among the neighboring constellations.

Art, Mind and Soul

Artist and creator