Item 21.




LEFTY


A painting by Jim Thompson
Gouache and watercolor on artboard
8"x10"



See actual detail.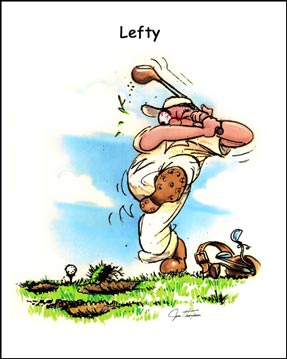 It may be amusing to watch a lefty attempt to rise to the challenge of this sport. However, lefties, as in this artist's case, may not always be so disadvantaged. At least in this art form. The sheer frustration of repeated misses and resulting divots give way to rage, replete with bulging, bloodshot eyes, red face, sweat and tattered golf clubs. The impatient wait of following players who grimace with each missed swing, is tempered with anticipation of a bumpy play on this now damaged tee green of the local public golf course. This particular kind of rage only fans the flames of determination, as this brave general in the war on the ball shows the ravages of his charges in the form of bomb craters in his desperate campaign.

Art, Mind and Soul

Artist and creator