Item 23.




MIDWATCH BREAK


A painting by Jim Thompson
Gouache and watercolor on artboard
18"x25"



See actual detail.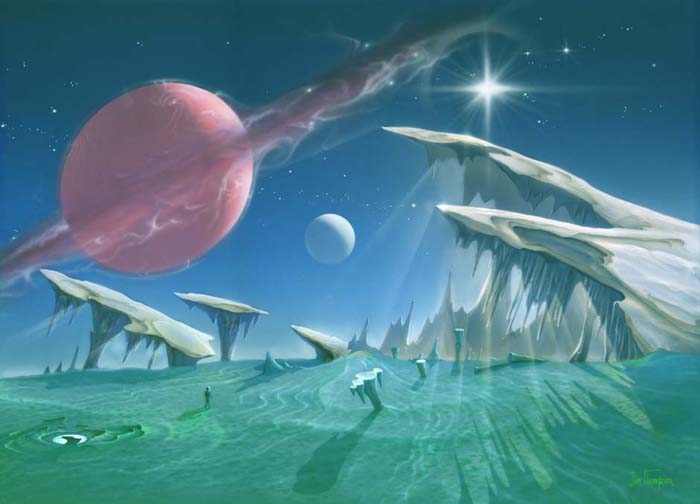 Even on other strange and wonderfully beautiful worlds, one might still be a part of some larger whole of human or alien activity. The kind of occupation that may have brought this seemingly lonely worker or resident to this amazing vista, is somehow less important than his taking that needed break to emerge from the shaft in the lower left. Going out occasionally to behold the arrangement of the incredible sky is only enhanced by the stark, jade terrain. The green sand lies strewn with ancient collapsed caves, the remains of which are now exposed to the open atmosphere. The corrosive content of this atmosphere is largely responsible for the erosion of the caves, some whose roofs have fallen to rest on their huge stalagmites and stalactites. Some of the fragments have speared into the terrain from even older and long eroded cave roofs.
The huge pink planet in the upper left is being ringed by its own dispersing gases. A faint halo from some of the gas is forming around the huge bright star that dominates the sky. The light of this star also spills across the top and through the remains of the large collapsed cave formations in the right foreground. The shadows cast by this bright light source also lie in long patterns that correspond to the position of the point of view in perspective. A gauzy haze partially veils more distant and more massive cave ruins. A near moon hangs in the middle sky. The distant curtain of stars tells of the vastness beyond and looks silently on this brooding wonder of time's progression.

Art, Mind and Soul

Artist and creator