Item 26.




BINARY GLOW


A painting by Jim Thompson
Gouache and watercolor on artboard
Digital 18"x24"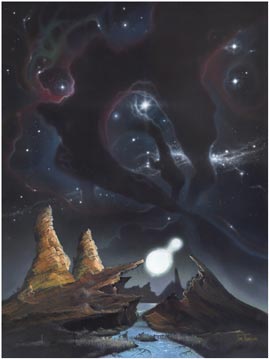 In this remote world, we stand near the middle of a stream that flows toward the viewer from the ancient remains of a huge collapsed volcanic bubble or dome. The collapsed bubble now is home to an almost walled-in lake and the lake spills out through a small fall in its foreground edge. The presence of such a body of liquid suggests the possible proliferation of some life forms. One resulting plant life is in the form of a low, ground-hugging, strong-rooted species that even grows out into the shallow stream. The brooding stony towers in the left background are the remains of volcanic throats of ancient lava that remain as columns, after their softer cinder cones have long weathered away. The dim light that now falls on this world is coming from the rising binary stars that loom low on the center horizon.
The appearance of the sky is a dominant factor, as it portrays an almost unique viewpoint down the spiral coil shape of nebulous clouds that lead off into a distant galaxy. The birth of stars still takes place within this womb of gasses and celestial debris. This might be a night scene as seen after a rather warm, light-filled day provided by a much larger and hotter star that has already set behind the viewer. The rather dim, moon-like glow of the binary stars is due largely to their location within the gaseous veil of the nearby nebula. Much of the binary stars' light is muted by these gases and clouds. Here the days are very short and luckily give relief from over evaporation of liquids, allowing much needed cooling to return from the punishing daytime heat, as the larger day star and binary stars pass overhead in rapid succession.

Art, Mind and Soul

Artist and creator